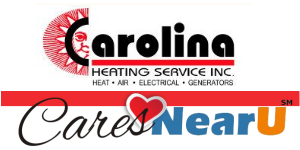 We are grateful for the support that you and all of our other customers give us. Support is a two-way street and we like to 'give back' to the community. "Carolina Heating Cares NearU" is a way for you to help your favorite organization by means of a friendly competition between the supporters of three local community groups. Carolina Heating Service, Inc. will donate to each organization based on what place they come in at the end of the contest.
Voting ends on December 1, 2020.
Donations:
1st: $1000
2nd: $500
3rd: $250
Rules:
Voting: 1 vote per day per person.
Contestant requires minimum 50 votes to qualify.
Votes with unverified emails will not be counted.
Once you vote, your contact information is tied to that given charity. You cannot swap horses in the middle of the race.